Straight

bloom.
all in one mix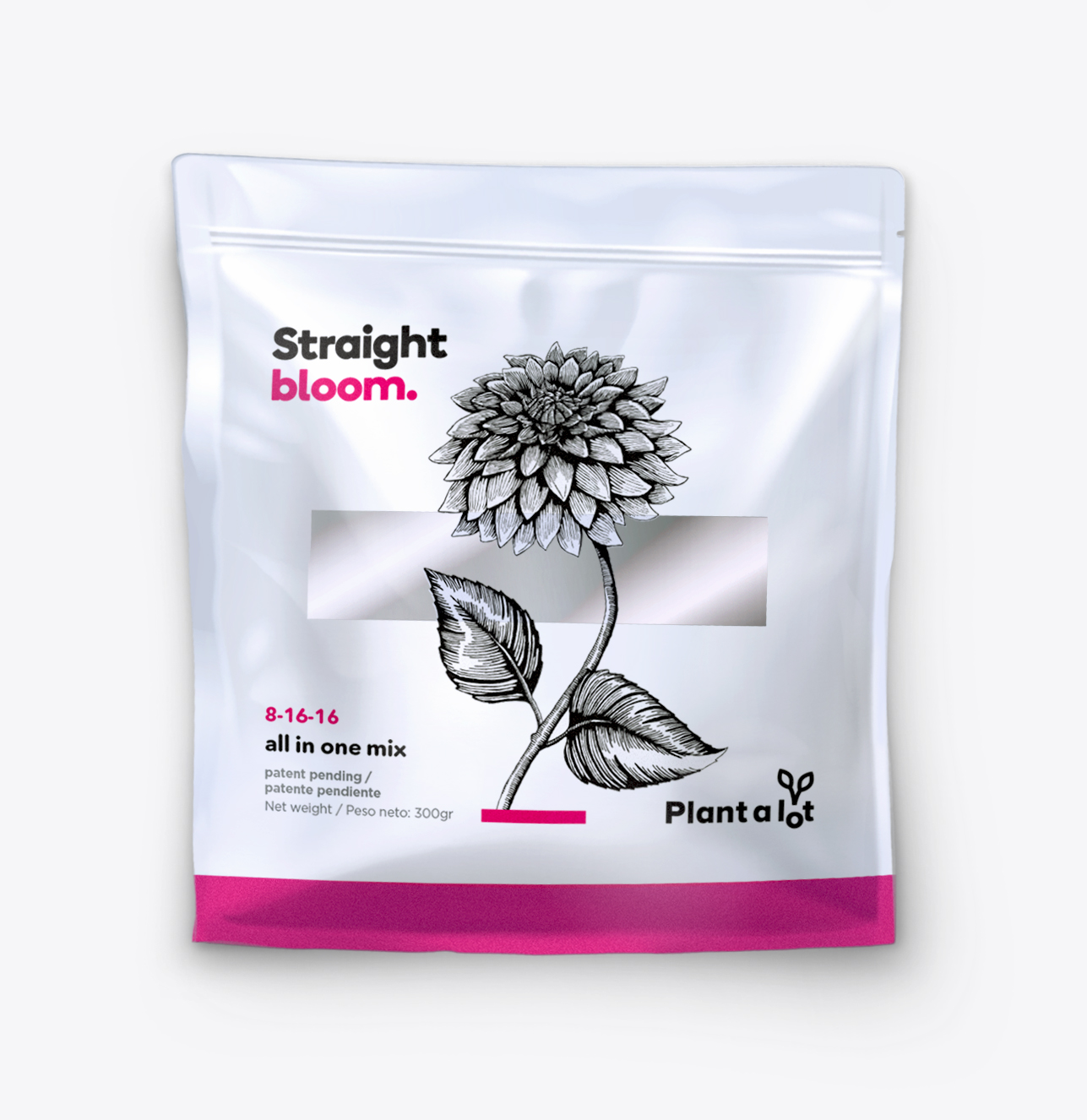 Truly all-inclusive!
All the ingredients found in 3-part and 2-part formulas: macro- and micronutrients, bio-stimulants and nutrient uptake enhancers, amino acids, vitamins and mycorrhiza.
Plant and user friendly!
No restrictions on using it with soil, soilless, hydroponics and spraying.
Eco-friendly and cost-effective!
Super concentrated, for less shipping expenses, reduced carbon footprint, longer shelf-life and maximum nutrition for a very small quantity.
Unique formula!
This is the only product on the market to combine significant quantities of Calcium and Magnesium with Phosphate.
pH-perfect!
Plant-a-lot Straight Bloom have natural self correcting pH agents: no pH measurements required.
EC-perfect!
No EC-meter necessary: calculated and self-regulating to give optimal EC when used with usual tap water of 0.3-0.4 EC.
Suitable for all!
As high nutrition standards as a demanding professional would need, as easy to use as a first timer's choice.
Formulated and manufactured in Canada!
Total Nitrogen (N)………………………….8%
3.75% Nitrate Nitrogen
4% Ammoniacal Nitrogen
0.25% Water Soluble Organic Nitrogen
Phosphate soluble  (P2O5) …….…………16%
Soluble Potash (K2O)………………………16%
Calcium (Ca)………………………………….2.5%
Magnesium (Mg)………………….………….1.5%
Boron (B)…………………………….………..0.02%
Copper EDTA (Cu)……………………..…….0.05%
0.05% Chelated Copper (Cu)
Iron EDTA (Fe)…………………………….0.2%
0.2% Chelated Iron (Fe)
Manganese EDTA (Mn)…………………..0.05%
0.05% Chelated Manganese (Mn)
Zinc EDTA (Zn)…………………………….0.16%
0.16% Chelated Zinc (Zn)
Silicate (SiO3)…………………………….1.8%
Kelp Extract ……………………………….1.0%
Humic acids ……………………………….4.0%
Combined with: Vitamins B1, C, precious plant extracts that invigorate your plants, sugar beet vinasse (microbe food) and mycorrhiza (Rhizophagus irregularis) that protect the root system and multiply the nutrient uptake.
Plant-a-lot Straight Bloom has a small and discreet packaging, with 98% less plastic and a reduced carbon footprint.
Available in zip-lock bags of 300g in 2 different contents for you to choose:
with 10 small sachets for small reservoirs (

20L

)

with 2 large sachets for large reservoirs (

100L

)
Also available in 10kg bulk buckets after ordering.
Plant-a-lot Straight Bloom is a new and unique bloom formula for use with soil, soilless, hydroponics and spraying.

Dissolve the ready-to-use, water-soluble sachet in your tank.
Choose the zip-lock bag with the 10 small sachets for 20L of final solution or the one with the 2 larger ones to prepare 100L of nutrient solution.
Water or spray your plants according to their needs.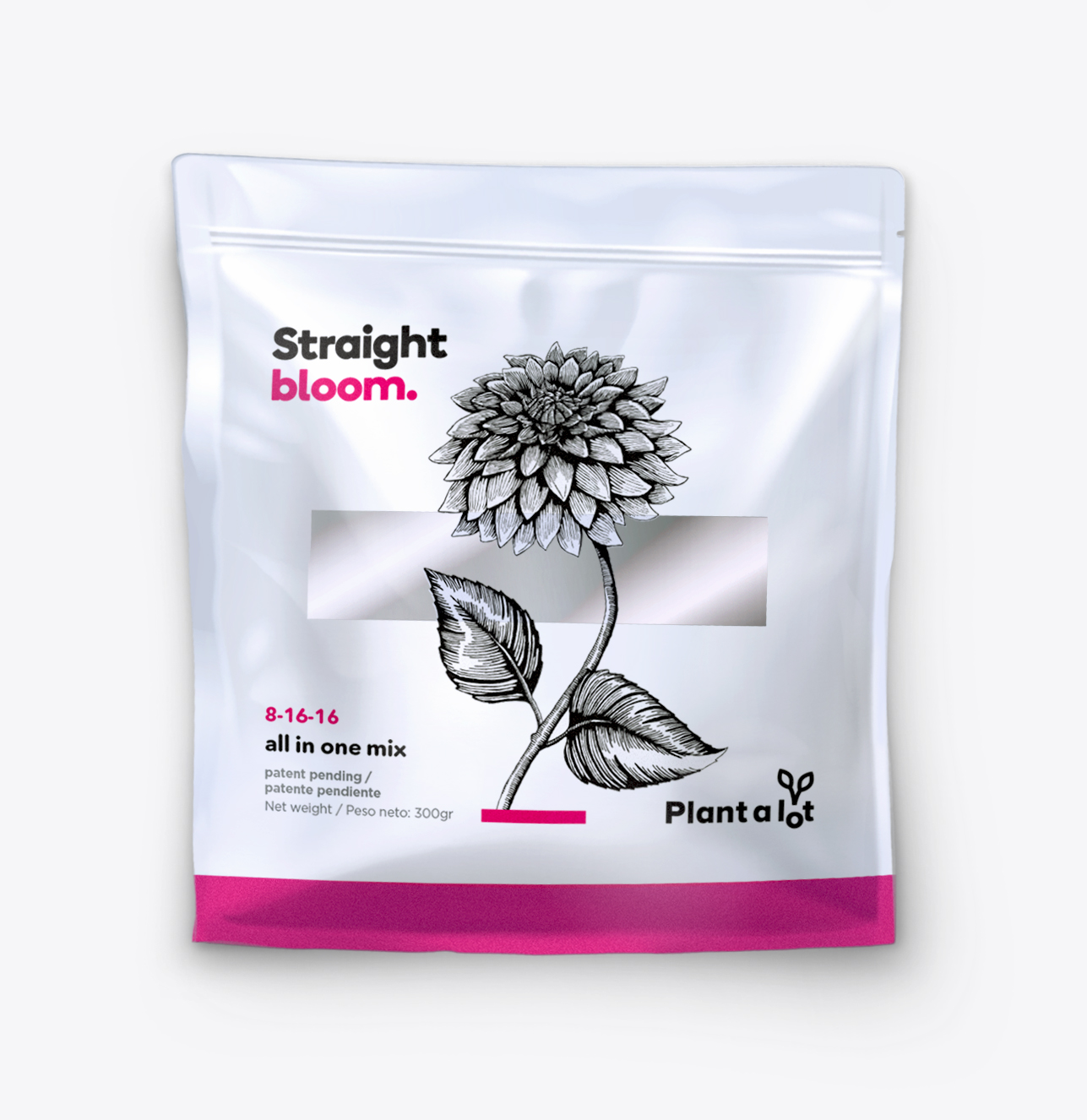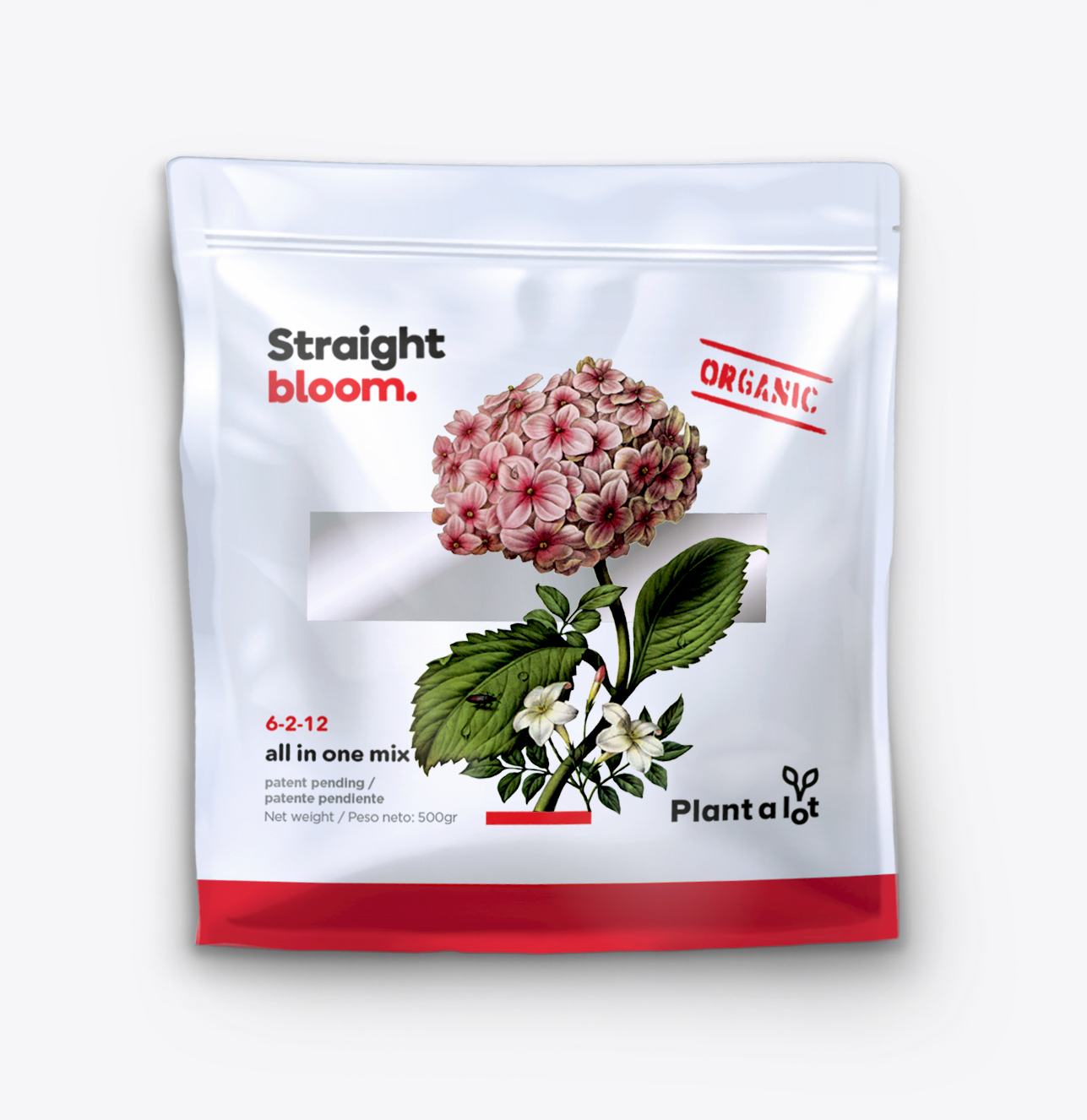 Straight bloom. | ORGANIC
For more Information
If we didn't answer all of your questions, feel free to drop us a line anytime.
Contact Us